Managing Governance Policies with everteam.policy
Keeping up with the constantly changing and growing legal and compliance regulations can seem like an exercise in frustration. Governance policies related to how you use and manage data cross departments and applications, and trying to manage them all in a spreadsheet simply doesn't make sense.
We could go on about the issues with spreadsheets for policy management, but instead, we'll point you to a webinar recap we did on that very topic. In this post, we'll tell you about a better solution – everteam.policy.
Managing retention policies
Everteam.policy is a tool that allows you to capture, document and maintain retention and governance policies for your entire organization. With it, you can:
Create comprehensive policy definitions
In everteam.policy, every policy has a unique code, name, and description. It has a status (approved, working, draft) and version, as well as an effective date. You identify where the policy applies – geography, business unit, jurisdiction. For each policy, you define an information lifecycle including things like how long to retain the information, any workflow to apply, etc.
Define advanced lifecycle rules
Sometimes, policies can be very complex and you need a way to define all the variances. One example is a policy that states a content asset must be retained for five years, but after two it can be removed from the index. Everteam.policy allows you to assign intermediate milestones to your policy definitions related to how a piece of content is stored, indexed or the metadata applied to it.
In addition, each jurisdiction may require a different set of policies based on the legal and regulatory compliance rules for that area (this could be a country, an office or a department in a company). With everteam.policy, you can assign a unique set of policies for each jurisdiction you define.
Demonstrate clear evidence of compliance
In order to clearly demonstrate you are complying with legal and regulatory requirements, you need to show how your policies are mapped to these requirements and that they are being followed.
With everteam.policy, you create a library of laws and then apply each law to one or more policies. You can then easily demonstrate defensible deletion.
In addition to mapping policies to actual legal and compliance requirements, everteam.policy has reporting features that give you a view of your policies and how they are being applied. Take advantage of a number of metrics and statistics that show you things such as how many policies you have and what departments or areas of the company they affect, as well as how many of those policies are actually enforced in the content repositories.
Communicate and share governance policies across the organization
A lot of work goes into creating and managing governance policies, but the application of those policies is everyone's responsibility. You need a way to share your policies with the employees affected so that they understand how they must manage information.
With everteam.policy you can easily communicate and share policies across the organization by sending out a link or publishing the policies to an intranet. When shared in this way, policies are read-only and searchable.
From spreadsheet to true policy management
If you've been managing your policies in a spreadsheet and are ready to move to something more efficient and effective, everteam.policy should be on your list of tools to evaluate. It includes an import tool that enables you to import your spreadsheet and adjust as necessary so you don't have to start from scratch.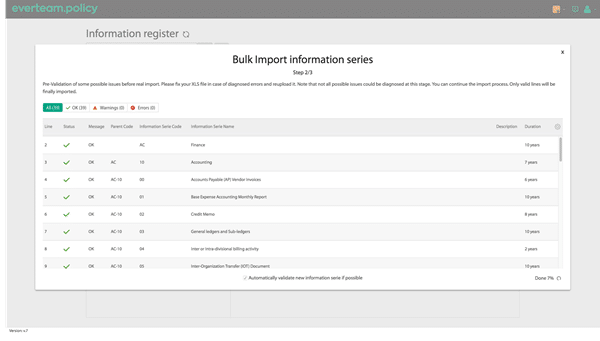 You can see a brief demo of everteam.policy at the end of our webinar, "Managing Retention Policies the Right Way," or you can reach out to us for a personalized demo where we can answer specific questions related to how you need to manage your governance policies.