Your objectives and expectations
Managing its information assets is a major challenge for companies that must
Responding to this challenge requires companies to implement an Information Governance policy. If this policy cannot always be defined and applied transversally within the company, it can be built progressively with
the definition of a Document Policy to identify important / sensitive documents for the company and determine their life cycle
the provision of a multi-source / document silo search engine to facilitate access to information scattered throughout the various IS applications
the use of intelligent digital bulk processing tools to automate migration, archiving or decommissioning operations of IS applications
the implementation of an electronic archiving system (SAE) or a mixed system, with automatic procedures for feeding data from the various IS applications to ensure the secure conservation of data flows as defined by the Documentary Policy
The implementation, sometimes necessary, of dedicated information silos to better isolate "reference" documents from collaborative spaces
Automatic application of the Document Policy rules on the flows of the various IS applications to reduce the risks of regulatory non-compliance and control the volumes of information
As an editor, Everteam offers a unique software suite that addresses each of the key points of Information Governance:
Information Governance Suite
We have identified recurring issues in companies. For that we have chosen to answer three essential needs:
Document analysis,
Information governance,
Archiving.
This unique software suite, structured on 3 key functions  Analyze, Manage, Archive, integrates innovative artificial intelligence technologies and is built on a modern "micro-services" architecture.
It is intended for large accounts or medium-sized companies
within the framework of transversal Information Governance projects
or to respond to certain Information Governance use cases with pre-packaged software offers that are quick to deploy ("Everteam for You" range)
It can be implemented in Cloud or OnPremise mode.
Analyze - Govern - Archive
These three bricks, Analyze - Govern - Archive, require to have a global vision of your data in the applications, to locate the digital bulk, in order to choose what you keep, delete, and archive.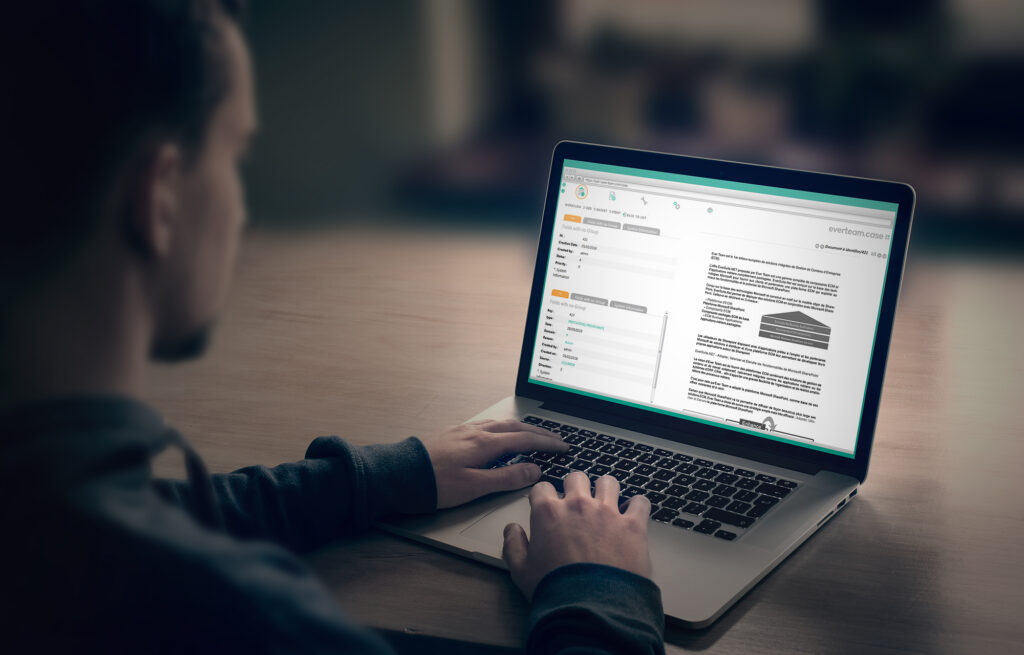 This is the main way to characterize Datain companies and their IT Dept. for business managers,  lawyers and  Information professionals.
Structured data: information (words, signs, numbers...) controlled by repositories and presented in boxes (the fields of a Database) that allow their interpretation and processing by machines.
Unstructured data: the rest, everything that is not organized in a Database, i.e. office automation, email, images, videos, etc.
 (source arcateg.fr)
Information governance is the way in which a company organizes, manages and secures all the information that circulates within it in order to constitute a usable information capital. It is a discipline that relies on technologies, organizational modes and human activities.
An EAS makes it possible to preserve and restore documents or digital data by guaranteeing their authenticity, their integrity and their readability in time. These functions are based on rules and a computer and software architecture that must allow interoperability and reversibility of systems.
An innovation serving the needs of businesses:
To help you implement federated and intelligent search within your company. Connect, Federate, Analyze, Categorize and Govern all your information
We combine expertise and technological innovations around artificial intelligence (NLP, Machine Learning, …) and advanced research functions thanks to our Everteam.lab research laboratory.
Our company-wide offering enables hundreds of company-wide organizations to turn their Information into a true asset by maximizing its value while reducing costs and risks
Our expertise and our offer on archiving are recognized and allow you to deploy a complete archiving solution with peace of mind whatever the size of your organization and the nature of your needs.